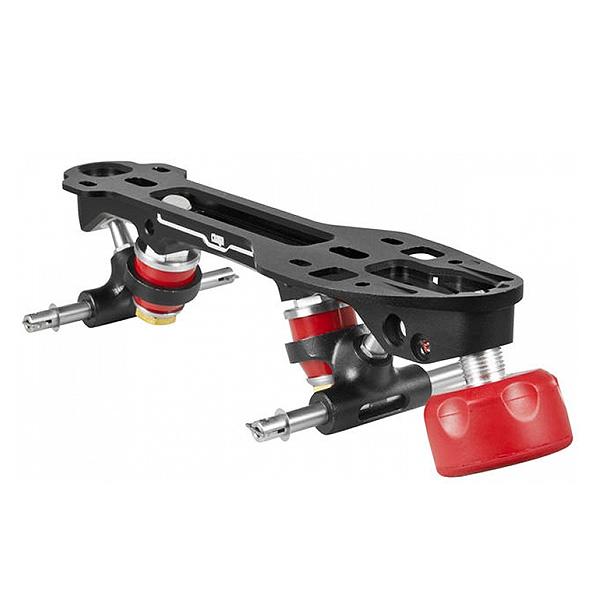 Chaya Shiva Plate (Standard Trucks)
Chaya Shiva Clip Plates are the most sophisticated plates on the market, loaded with incredible features for unparalleled performance. Arguably, the most remarkable feature is the Dual Centre Mount (DCM) system. The 2-point mounting system means you can mount your Chaya plate to your Chaya boot without using any power tools!  You can mount your plates yourself following a very simple process that absolutely anybody can do. Mount your plates in very few minutes to your Chaya boots by simply fixing two screws with the provided hand tool. DCM enables you to shift your plate forwards and backwards, and from side to side to compliment your preferred skating style. However, Shiva plates are also compatible with any other derby boot.

The Chaya Cherry Bomb toe stop is positioned at an off set. This anatomically orientated position lets you stop faster, accelerate with more power and makes toe stop work a dream! This along with our Power Toe System (PTS) which follows the natural shape of the boot offers superior power transfer as the boot and plate are more closely connected.

Aluminum forged trucks locked in by super strong cushion cups made of Delrin, feature our Clip axle system which saves heaps of time when exchanging wheels - leaving you more time for skating! Change your wheels in just seconds without a need for any tools, by simply turning a small metal lever.

This lightweight 20° plate made of 7005 aircraft aluminum is equipped with high end Jelly Interlock PU-cushions which provide great control and maneuverability. The Chaya Shiva plates will help you unleash your full potential.
Material: 7005 Al, extruded & CNC machined with laser print
Mounting: Dual Centre Mount (DCM)
Frame: 20°, Clip Axle, forged
Cushions: Jelly Interlock PU - Cushions 92A
Toe Stop: Cherry Bomb, natural rubber, long stem, flat head, off set