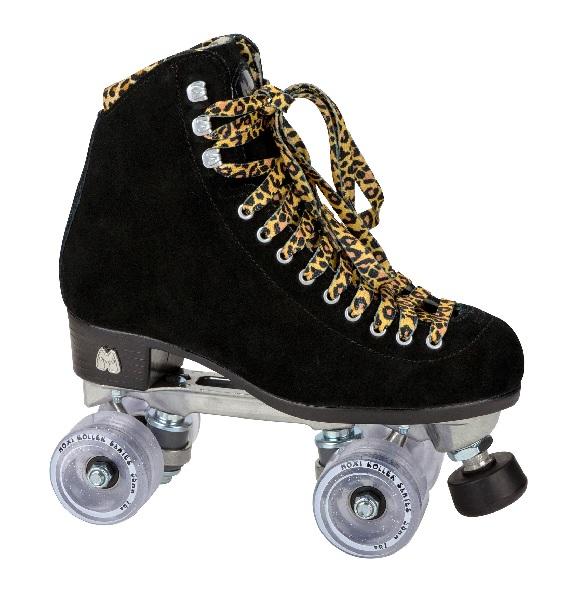 Moxi Panther Skates
Dress it up or down, the Moxi Panther is ready to shred!
Building from the same reinforcements that make the Moxi Beach Bunny and Jungle Skates so versatile at the park and on the streets, the Moxi Panther Skates swaps out the vinyl uppers of those skates for drum-dyed, hand-sorted genuine suede. This offers a more personalised fit, extra abrasion resistance on tough surfaces, and a rich, colourfast look. The Panther also comes fitted with a PVC unit outer sole and heel, ankle padding and a curved collar for added comfort. Accented with a panther-print Dri-Lex™ lining, polyester laces and vinyl toe caps, the Moxi Panther Skate is on the prowl for a good time on 8 wheels
Specification:
Sizing: Full Sizes Only, Medium Width
Boot: Handmade High Top Suede Panther Boot with Raised Heel
Plate: Marvel Die Cast Aluminium Plates
Wheels: High Rebound Outdoor Moxi Clear Glitter 58mm/78a Wheels
Laces: Panther-Print Polyester Laces
Bearings: Kwik ABEC-5
Toe Stop: Off Set PowerDyne Adjustable Black
Extras: 1 Pair of Panther-Print Vinyl Toe Caps Included with Every Pair of Skate
PLEASE NOTE: The Panther print graphic on the toe caps supplied with these skates has limited durability and the graphic itself will wear quickly but the vinyl underneath will continue to protect the boots. The toe caps are supplied as an aesthetic accessory since the suede material of the Panther is naturally more abrasive resistant. As such we are unable to offer warranty on worn graphics on the Panther toe caps.