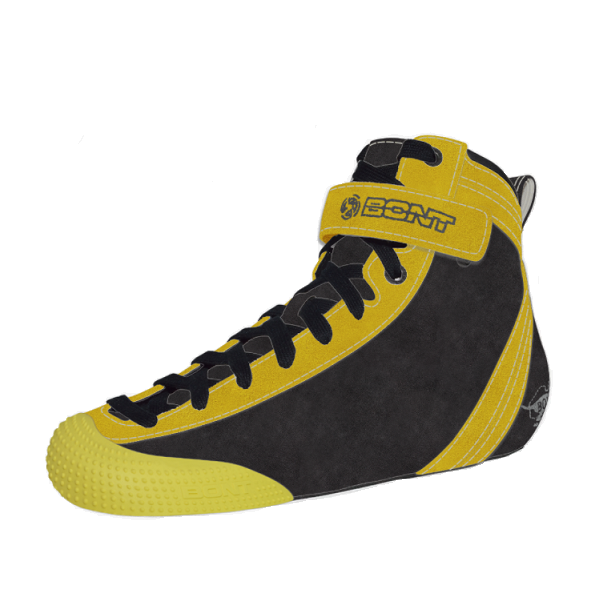 MyBonts Custom Parkstar
PLEASE NOTE: Due to the high demand the MyBonts boots currently take approximately 12 weeks to manufacture and ship.
The ParkStar. Style, Performance and Comfort all in one skate park boot.
This quad skate boot combines these three elements at an affordable price. The Bont ParkStar skate park boot takes the best of Bont innovation and turns it into a quad skate boot. Designed for Park Skating, Bowl Skating, Recreational Skating, and Street Skating.
From start to finish, the Bont ParkStar boot maintains our high standard of quality. Did you know, for example, our boots are made by hand using lasts that have been perfected for over 45 years? Additionally, we add anti-stretch material to our skate boots, ensuring your quad boots last longer. We even considered the Anatomical Forefoot and Heel Shape in the design of our boots to provide you with the best stability and comfort. Suitable for Indoor or Outdoor skating, these suede high ankle boots are ready for your next adventure! Mybonts is the latest and greatest way to customize your Bont boots. We have been creating custom designs since 1975.
Features
Base: Fibreglass
Outer skin: Suede (option to upgrade to vegan boot)
Liner: Suede-L
Heel rise: 23mm internal hand formed
Boot height: High ankle for added support
Boot thickness: 1.4mm
Heat mouldable: Fully heat mouldable base utilising epoxy thermoset resin
Padding: Memory foam
Size options: 1 -13
Width: Cannot make in narrow or wide but the width is a bit wider than our standard width
Note: The vegan option is a custom boot and is the same price 
IMPORTANT: The Bont Parkstar boot runs a little big so you will need to subtract 5mm from your measurements and then confirm the Bont boot size our size chart gives you.