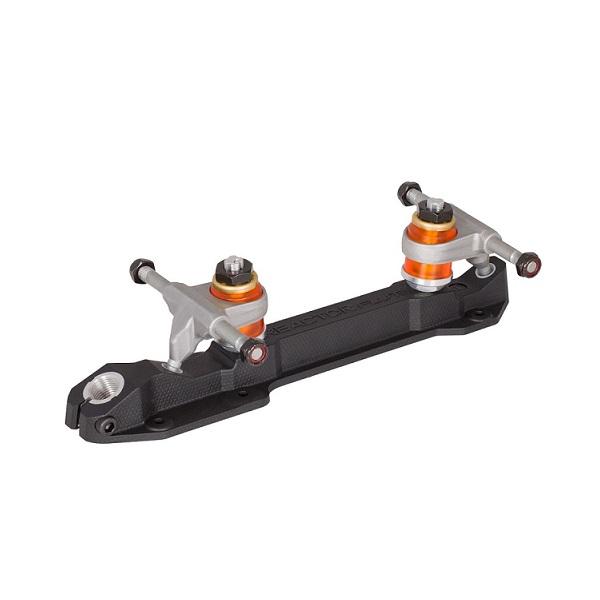 Powerdyne Reactor Fuse Plate
As the name suggests, it Fuses two lightweight compound materials together to create exceptional performance without breaking the bank.
Utilising their extensive roller derby knowledge, Riedell and the team at Powerdyne have taken the durability of a nylon plate and added an ultra lightweight fibreglass reinforcement to the new Fuse plate to increase strength without compromising on weight.
The Reactor Fuse plate comes with the tried and tested integrated toe stop receiver to securely hold your toe stop in place, as seen on the more expensive Reactor Pro and the Reactor Neo plates. Like the Reactor Neo, the Fuse plate also features a precise, click action, kingpin to help take the guess work out of adjusting the cushions.
Ideally suited to newcomers to the roller derby scene, or more seasoned professionals looking for the best performance at the best price the Reactor Fuse plate has been tested by skaters to ensure that it matches up to their demands.
Features:
Lightweight composite nylon plates features fibreglass reinforcements to keep weight down without compromising on strength
Tried and tested integrated, aluminium toe stop receiver secures toe stops with 5mm Allen key bolt
Aluminium trucks with chromoly steel axles and steel rod reinforced pivot arms
Solid 7075 aluminium kingpins set at a 10 degree angle
Precise click action kingpin adjustment nut
High rebound urethane cushions
Available in Full Sizes 3 - 13